Perhaps the race to the thinnest, lightest device, doesn't necessarily work well when also making it enormous. iPhone 6 Plus
Note to self: when wearing my hipster skinny jeans, place 6 plus in gold fanny pack
Some jeans are just too tight for Apple's new larger iPhones, but even if you can squeeze it in a pocket, don't try sitting down or it might get bent.
Despite insurance company finding new iPhones are most durable yet, users discover that pockets can warp them - and hands too if you try hard enough
A number of users across various
forums,
sites
and Twitter have reported – and pictured – that their phones have become warped after they sat or bent down with them in front and rear trouser pockets.
The reports come just after an insurance company claimed that the new iPhones are the most robust ever – though its tests didn't include bending.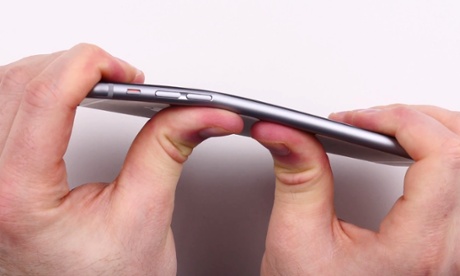 The bigger screens but thinner bodies of Apple's new iPhone 6 and 6 Plus models have come at the cost of rigidity, according to owners who say they bent while being carried in trouser pockets.
The iPhone 6 and 6 Plus chassis is milled from a solid piece of aluminium alloy whose composition is secret. The weak area of the phone appears to be around the volume buttons, where the frame is at its thinnest and creates a fulcrum point around which the phone bends. Surprisingly, the screen does not break when the phone bends – though it does if the phone is then bent back to a flat profile.
-The race to the thinnest, lightest device, doesn't necessarily work well Not only for the iPhone 6 Plus
The owner of blogmytut.blogspot.com will not be liable for any errors or omissions in this information nor for the availability of this information. The owner will not be liable for any losses, injuries, or damages from the display or use of this information.Report any Broken Download linkon Blogmytuts Facebook Page. IF YOU WANT TO BORROW MY CONTENT PLEASE CONTACT US..