MANILA, PHILIPPINES – Intel Philippines recently inked a long-term partnership with the Philippines' One-Stop Shopping and Selling Destination
Lazada.com.ph
to provide best-in-value 2-in-1 convertibles, notebooks, smartphones, tablets, and desktops to more Filipinos.
Long weekend indeed! And what makes it more awesome is this Intel's Gift Voucher Bonanza! The first 100 customers can get a discount voucher of Php 2,000 on select Intel-Powered 2-in-1s. This will be a great opportunity to promote your links together with the vouchers.
Be Incredible with Intel!
Intel teams up with
Lazada.com.ph
to provide incredible discounts on select items
Just use the code : INTEL2000
Promo runs June 11-15
Hurry! this is a limited offer only!
To celebrate this recent partnership, Intel is generously offering PhP 2,000 discount on select 2-in-1 convertibles such as the Acer One 10, Acer Switch 10E, Asus T300 FA, Asus T300 Chi, Redfox Wizpad Scribe WS-101, Redfox Wizpad Scribe WS-101 3G, HP Pavillion 11-N002TU X360 11.6", and the Lenovo Yoga 3 11". The first 100 customers can avail of the discount simply by using the voucher code INTEL2000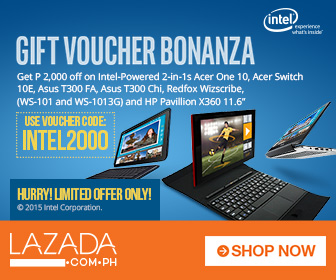 The owner of blogmytut.blogspot.com will not be liable for any errors or omissions in this information nor for the availability of this information. The owner will not be liable for any losses, injuries, or damages from the display or use of this information.Report any Broken Download linkon Blogmytuts Facebook Page. IF YOU WANT TO BORROW MY CONTENT PLEASE CONTACT US..